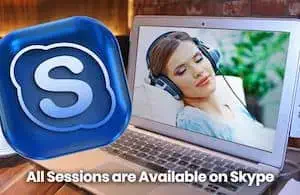 Phone Hypnosis, Webcam Hypnosis, and Online Hypnosis sessions are perfect for those clients who are not able to schedule an in-person hypnosis session. Eli Bliliuos is an experienced online hypnotist / phone hypnotist who can assist you with a variety of challenges including stop smoking, weight loss, overcome fears, confidence, agoraphobia and many more. Please review the Specialty Area page for additional areas that hypnosis can help improve or overcome.
A typical first session consists of an intake, hypnosis to address the area of opportunity, and teaching the client self-hypnosis. The intake portion involves answering any questions the client might have, discussing the exact nature of the problem, and identifying exactly what a client wants to achieve. Under hypnosis, the client will receive a suggestion that will assist in promoting accelerated change. The client will also receive a recording of a hypnosis session that can be downloaded onto a computer, phone, or an iPad.
Whether you live too far away from a highly rated hypnotist, or you are housebound, online hypnotism, webcam hypnotism, and phone hypnotism are within your reach. Online hypnosis, also referred to as online hypnotherapy is fast becoming the solution of choice. In fact, webcam hypnotherapy is the best hypnosis option for folks who struggle with agoraphobia and are unable to leave their homes. An online hypnotherapist can be your guide to facilitate an accelerated change.